My sister in law is getting married next year. My 2 boys will be page boys and my husband is giving her away. As a result I feel like I should make an effort!!
I thought I would set myself a challenge. This years challenge was to set up the craft stall and Etsy shop, which is done and ticking over nicely. So for this next year I thought I would set myself Project Wedding Outfit - where I make pretty much everything I intend to wear.
Project WO will therefore, consist of:
A wrap dress
- I have been reading 'What not to wear' and have decided this is the best type of dress for my figure. I will need a pattern and think I have decided on
the ultimate wrap dress by Sew Over It
. I have a day off (without children) at the start of December so I will source some fabric on that day. In the meantime I shall order some relatively cheap stretch fabric to make myself a muslin first (I shall do this properly!!)
Shawl
- I would like a smallish lightweight shawl to wear as although the wedding is in July I may need it to go into the evening. I have knitted a Boo knits shawl in the past and found it easy to follow but lovely to look at, so am thinking of one of
these
- possibly Fragile Heart. I can't buy yarn yet as it will depend on my choice of fabric for the dress.
Corsage
- I have made a number of fabric flowers for the stall as in the tutorial so I will probably make one of these.
Knitted handbag with wooden handles
- Again something I have made for the stall in superchunky, but I will make one to coordinate with the dress. I may make it in a finer yarn but I will keep looking for a pattern for this. Maybe something along these lines: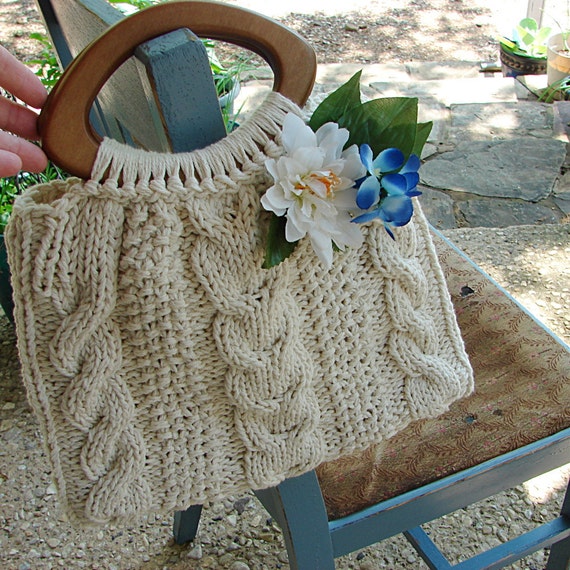 Shoes
- I will not be making! I am hoping my wedding shoes might be appropriate - I kept them from 10 years ago but have never worn them again.
Underwear
- I will not be attempting a bra (will buy one!). However, I have been seduced by the knicker kits at Sew Over It and may make my own - but we will see.
Jewelry
- I have made my own jewelry, but it depends what it all looks like as to whether I buy some or make some.
Wedding Cake
- I have been asked to make this - I know no more at the moment, so will update when I know.
So there we have it, my new project. I am going to aim to blog about this regularly, hopefully, once a week although I may combine it with a WIP Wednesday if there is not much happening on the outfit front!! I shall also add it to my Year of Projects list.
Linking up with
KCCO